With the services of a platform created by Bitlocus, you can enjoy the benefits of cryptocurrency and decentralized finance without having to deal with the hassles of the crypto processes. Bitlocus is already offering staking and lending services, but even more investment options are coming.
1. Sign Up
The first step is to create your Bitlocus account. The process is simple, but we prepared a step-by-step guide to make it even easier for you.
Sign up for an account
1. Visit https://app.bitlocus.com/register.
2. You will be redirected to the sign-up page. Enter the requested information and click "Sign up".
3. Now you need to confirm your email address. Go to your email account and click on the link Bitlocus sent you. If you don't see the email, check your "Spam" folder.
Verify your identity
Once your email has been verified, proceed to the user identification (KYC) process and authenticate your identity. Every client visiting any financial institution is required to complete this step.
That way, an organization has the ability to verify that its clients are legitimate, assess and manage risks, and stop the inflow of erroneous or fraudulent funds into the economic system.
Your passport or ID card will be required. You must also give proof of your residency address if you intend to conduct transactions worth more than 10,000 EUR per day and 100,000 EUR per month.
Any document that contains both an address and a name, such as a passport or a credit card statement, is acceptable.
2. Deposit
Once your identity has been verified, you can go ahead and deposit euros or crypto into your account to start investing.
You can make a EUR deposit via SEPA or SWIFT. Start making a deposit by clicking "Deposit" on the "DeFi Marketplace". You will then receive instructions on where and how to complete the transaction.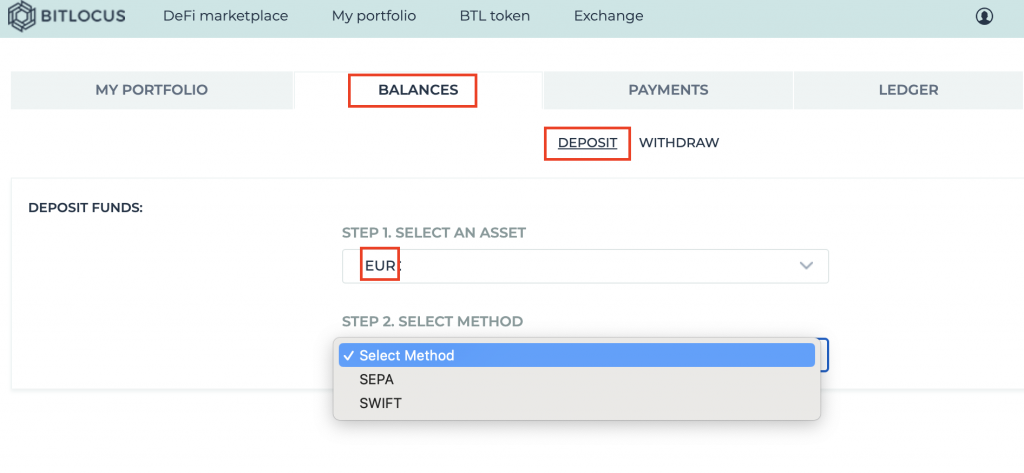 Depending on how quickly the transaction is processed, you will either be able to see the funds in your account the same or the following business day.
3. Invest
When funds are added to your Bitlocus account, you can begin your first DeFi investment journey. Choose from the available Bitlocus services and start growing your crypto portfolio. In case you don't know what kind of products Bitlocus has and you need help to make the first steps, we are leaving the list and guides below.
How to stake BTL tokens?
How to start lending your assets?
How to redeem your lending rewards?
4. Withdraw
Withdraw any of the assets, either partially or completely. Your request will be processed by the Bitlocus platform, and the money will then be transferred to your account in the same currency that you chose.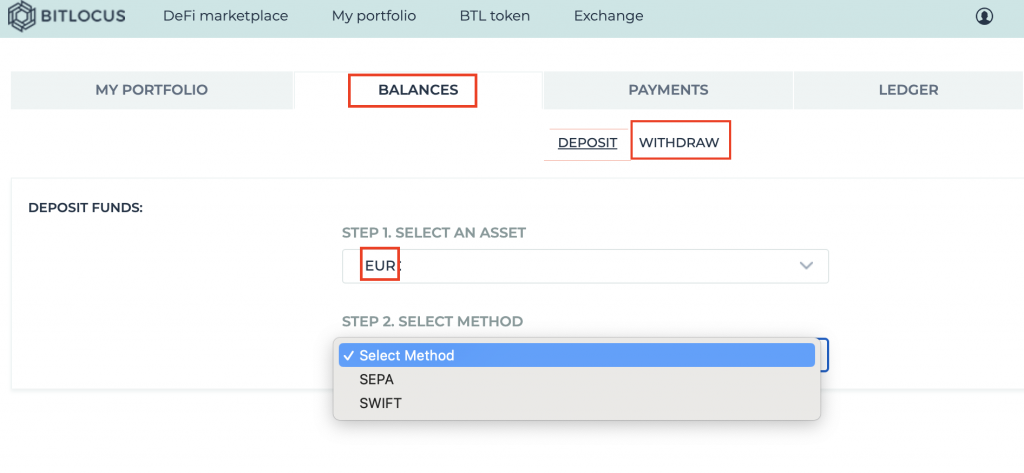 That's it. Follow these simple steps to begin your DeFi investment journey. With Bitlocus it's always easier.